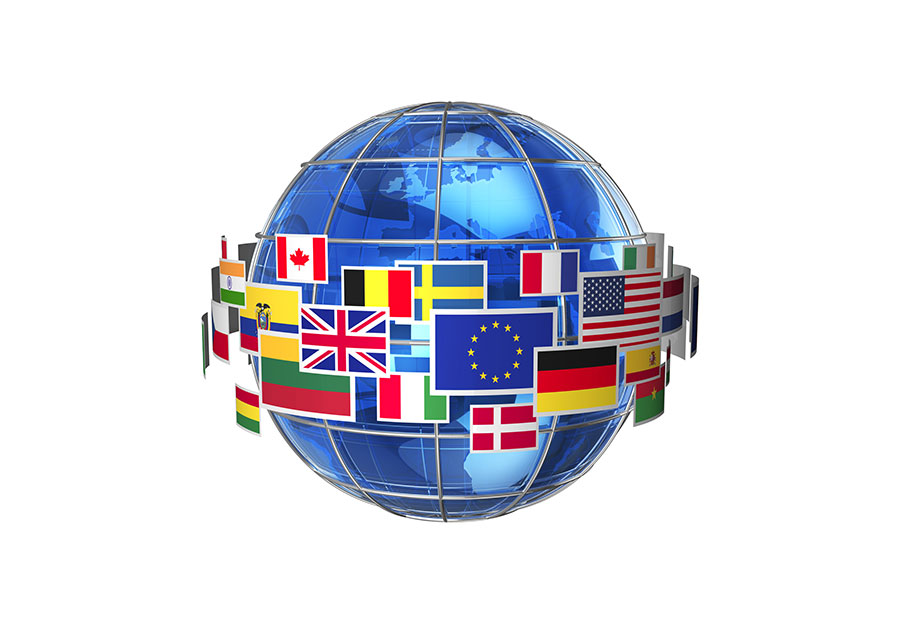 Multi Language Website Mistakes That Most Webmasters Make
The internet gives a business the power to compete on a global level. Gone are the days when your only competitor was the other shop across the road. If you sell your products or services on a website, you have the power to quickly expand beyond your country's borders, without spending millions of dollars on opening new physical stores.
But in order to do this, you have to speak their native or preferred language. And, in order to speak their language, you need to translate your website. Apparently, setting up a multi language website is one of the trickiest things in the digital marketing field. International SEO is pretty hard! Beside translating it the right way, you can run into a lot of other technical issues, most of them regarding incorrect indexation and display of the language versions by Google.
Even more, Google has recently changed the way it displays websites internationally. You can no longer see the results in another country by simply visiting its Google version. Instead, you have to go through the search settings and select the specific country and language. This shows Google's interest to make search results more relevant by location, so it's more important than ever to get everything right!
In this small international SEO guide, we're going to try to solve some of the more complicated issues regarding multilingual websites and hopefully shed some light on the most common hreflang mistakes and other general multilingual website issues that webmasters make when they start expanding internationally.
Technical Multilingual SEO & Hreflang Related Issues

Bad Implementation of the rel="alternate" and hreflang Attributes
Conflicts, Bad Implementation and Confusion Regarding the rel="canonical" Tag
Geographical and IP Based Redirect Issues
Using Robots.Txt or No-Index Tag on Translated Pages
Language Selector Flag URLs
English URLs for Other Languages
Think of Other Search Engines, Too
Focusing All the Links Only on the Main Version

Display & Content Multi Language Issues That Affect UX

Using Automatic Website Translation Software
Not Doing Keyword Research
Not Having Any Cultural Awareness
Not Fully Translating Captchas
Trying to rank an English page everywhere using HREFlang
Fonts and Diacritics
Neglecting Social Media
Technical Multilingual SEO & Hreflang Related Issues
Technical issues in multilingual websites are more common on custom builds. It might not always be the webmaster's fault, but as long as you have the information and leave the problems there, you have no excuse. Here are some of the most common technical problems around the web and how to properly fix them.
Bad Implementation of the rel="alternate" and hreflang Attributes
Oh, the hreflangs! Studies show that around 75% percent of the hreflang implementations have mistakes in them. To be honest, while I was searching for examples online, many multi lingual websites did not even have the hreflang implemented at all!
That's a concern, because not only does that prevent you from ranking high in other countries, but it also dilutes your website's content, making it seem less relevant in Google's eyes.
So what is this hreflang attribute? Well, in theory, it's pretty simple:
The hreflang attribute is a way of telling Google "Hey, I have another localized version of my website here, and it's in this language."
Here's a video from SEJ where Bill Hunt is explaining exactly what HREFlang is and how to use it correctly.
Of course, if you don't use it, Google is probably able to figure things out on its own. But multilingual sites that help Google figure things out easier are known to get a boost in rankings! Here's a good example from SeerInteractive that shows a traffic growth after the hreflang attribute has been correctly implemented:
Here are the most common mistkes that people do when implementing the hreflang attribute:
No hreflang attribute: Of course, the first rule would be to have the hreflang annotation in your HTML. As I said, I found many examples that don't contain the attribute at all. Here's just one of them:
Although you can clearly see that they offer the website in multiple languages, the hreflang attribute is nowhere to be found in the HTML source code:
No self-referencing URL: On Google's official page about multilanguage websites, it's clearly stated that you must use a self-referencing rel="alternate" hreflang attribute.
If you have multiple language versions of a URL, each language page should identify different language versions, including itself. For example, if your site provides content in French, English, and Spanish, the Spanish version must include a rel="alternate" hreflang="x" link for itself in addition to links to the French and English versions. Similarly, the English and French versions must each include the same references to the French, English, and Spanish versions.
GOOGLE
https://support.google.com/webmasters/answer/189077?hl=en
Here's an example of a site that is missing the self-referencing hreflang tag.
In another example, you can see from the title that the text is in English and that the English hreflang attribute is missing from the page. However, the page clearly indicates the Spanish version of the website.
What's even worse about this case is that the link tag containing the Spanish version is static and implemented in the head template of the entire website. This means that every page will have the same hreflang attribute, continuously misleading Google and harming the website.
As you can see above, this time we have the self-referencing attribute in place, but we're now missing the attribute that specifies the English version we saw earlier.
In this case, the correct implementation would include both versions, like this:
<link rel="alternate" hreflang="en" href="https://www.cricketwireless.com/" />
<link rel="alternate" hreflang="es" href="https://espanol.cricketwireless.com/" />
To prove that bad implementation won't get you where you want to be, I selected US as the region in Chrome, Spanish as the language and then I searched for cricketwireless.
As you can see, the result isn't the desired Spanish subdomain. Although the webmaster did specify the Spanish version, they missed out on the other rules. I performed this search in the Spanish region as well, and the Google search results were the same.
So if you want your website to rank well across all regions in all languages, make sure you have your hreflang return tags set up, so that Google can figure out which web pages are linked to one another.
Not in header: If your hreflang attribute return tags aren't found in the header, Google will basically analyze the entire page any try to figure things out on its own before realizing the answer was right under its nose. Make sure you have it between your opening and closing head tags.
A hreflang attribute specifying the French version of a website should look like this:
<link rel="alternate" hreflang="fr" href="http://www.yourwebsite.com/fr/" />
It's similar to the link tags that insert JavaScript or CSS files. You can also use a sitemap or a HTTP header for non-HTML files. However, the link tag in the <head> section of your website is the recommended version.
Here's a really weird implementation, where the tags are outside the head section and inside a <li> tag instead of a <link> one. Strange and interesting, but definitely not the right way to do it.
Don't do that! Use the link tag as mentioned above!
Relative URLs: Google can misinterpret relative URLs, so make sure you make them absolute (https://yoursite.com/specific-page instead of just /specific-page/). If the page is a 404 or a relative URL, there might be issues in the overall indexing of your language version.
I couldn't find another example, but you can take a look at the example above from semver.org, where the URLs in the already badly implemented hreflang are relative (/lang/ar) instead of absolute.
The correct implementation in this case would be <link rel="alternate" hreflang="ar" href="https://semver.org/lang/ar/" />.
It doesn't point to a specific page: Each page should point to the specific counterpart in another language, not the entire foreign language version. I couldn't find another example, but we can use a previous one. Because there is a single hreflang attribute on the whole website, different pages actually point to the root of that language version, regardless of the page or language version you're on.
In some cases, such as this one, you're better off not having the hreflang attribute at all rather than having it implemented incorrectly.
The correct implementation in this case would be https://www.cricketwireless.com/support/apps-and-services.html with a rel="alternate" attribute to https://espanol.cricketwireless.com/ayuda/27g/aplicaciones-y-servicios.html.
Also, remember that it should have a self-referencing hreflang attribute to itself.
Incorrect language / country codes: The language code is very often misspelled. Many times, webmasters and web developers use the country code instead of the language code. Here are some official Google insights:
So, normally, you have to put the language code, not the country code. The country code is optional and can be added to target specific languages in specific regions. For example, you could target the Spanish speaking audience in the US, or the English speaking audience in France. Is this useful?
I don't know… let's say that some people from UK are visiting Italy, and they want to buy some souvenirs. They don't know any Italian, so they type "buy souvenirs in Venice" in Google. There you go: you just have an English speaking target audience in an Italian region.
The full list of language codes can be found here, and the full optional list of country codes can be found here.
No x-default attribute for language pick page: Google recommends using one more tag, placed after all the other languages, to specify the language selection page, if there is one. For example, if the homepage just presents a list of languages to choose from, that would be the x-default language version.
In the following case, you can see that the homepage of nunnauuni.com is a language selection page. The page is well set up, redirecting users on their second visit accordingly. Although the site has all the other language attributes, including the self-referencing one, it's missing the x-default tag which specifies the general language selection page.