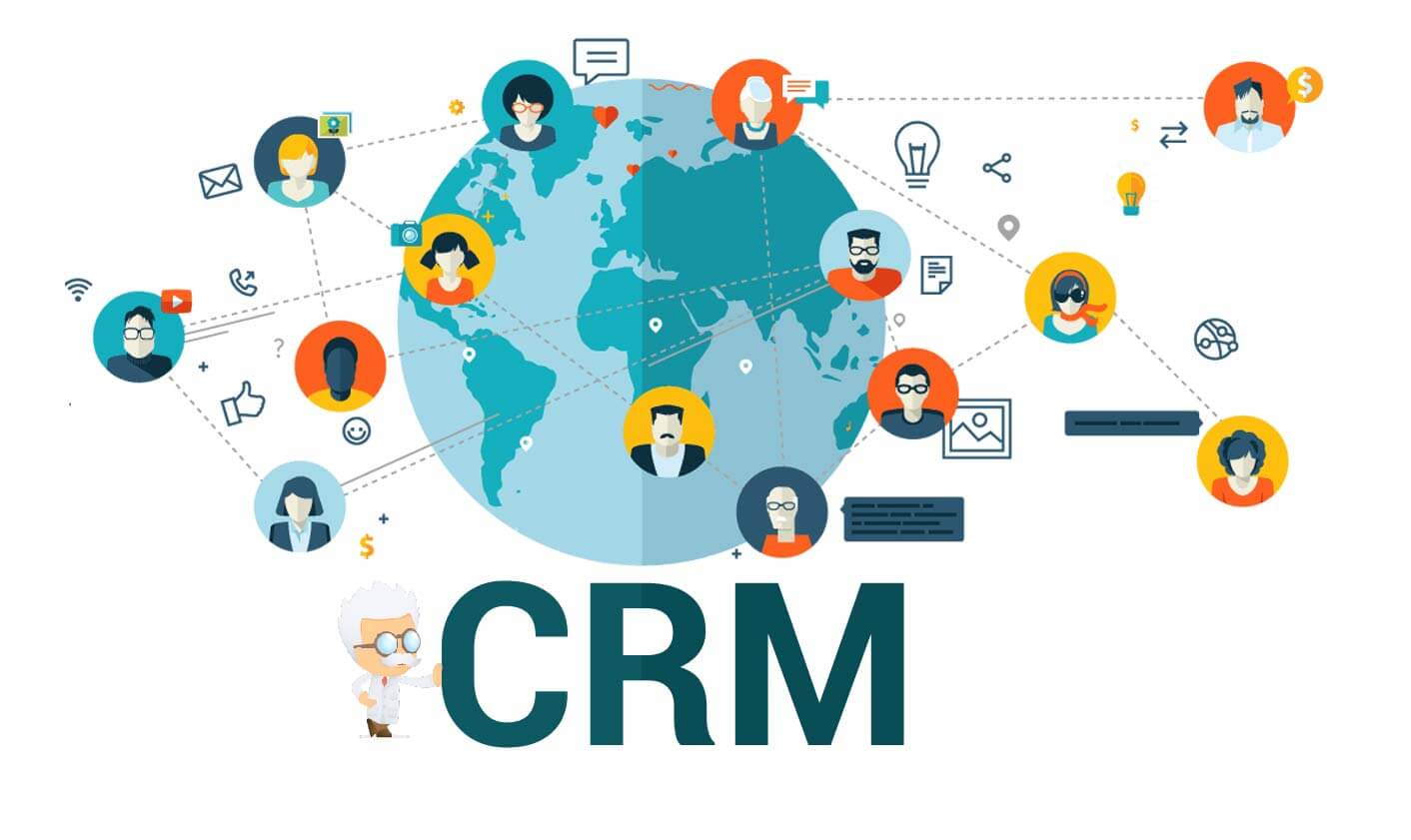 What is a CRM?
CRM Definition
A CRM (from Customer Relationship Management) is a software solution (often available as a SaaS - software as a service) that helps companies interact with partners, suppliers, and potential customers. the existing ones. Specifically, a CRM system manages sales information, contacts, and the entire process of interacting with a customer long before the actual sale takes place. This is because the goal of a company is not only to access new customers, but also to keep existing ones, by exploiting new sales opportunities.
Although the term CRM, as defined, refers to a product, it actually incorporates the Strategy, Actions and Technology needed for a company to improve and transform the way it reports to customers, focusing on the human factor, whether we are talking about a customer, a user, a partner or a supplier.
The ultimate goal is to build strong relationships that will sustainably increase the profitability of the business.
What does a CRM system include?
CRM integrates everything a company needs in a single application to implement effective marketing strategies and increase sales and customer satisfaction. A modern CRM system integrates - in a single platform - all the channels through which the business communicates with its customers. These include not only traditional means such as telephone, e-mail, contact forms (printed and electronic), but also the most modern ones, such as social networks, e-mailing platforms, etc. In addition, it offers various automations, such as campaign alerts, sales opportunities, customer communications, etc. At the same time, it records all the information about the company's relationship with customers, giving managers the ability to monitor the performance and productivity of operations.
The characteristics of a CRM
Key features of a CRM solution include:
Synchronize and integrate with all Office applications (Microsoft Office, Gmail, Microsoft Office 365) to import contacts, tasks, and emails;
Manage daily tasks such as phone calls, meetings, and emails;
Detailed management of customer contacts and accounts;
Turning them into sales opportunities;
Management of operations necessary for the conclusion of a transaction;
Detailed monitoring of suppliers' activity;
Creating lists of existing and potential customers;
Automatic launch of promotional campaigns;
The possibility of designing and executing countless types of promotional campaigns;
Productivity analysis of sales opportunities and promotional campaigns;
Detailed monitoring of communication with customers regardless of channel (phone, fax, e-mail, SMS, etc.);
Monitoring the history of offers and creating new offers according to predefined templates;
Flexible monitoring and use of all data for sales opportunity management (sales milestones, competition, recommendations, partners, participants, estimated time and revenue, success rate, etc.);
The key benefits of a CRM system
The CRM system uses advanced data analysis tools and creates reports to make strategic decisions. Detecting patterns, customer preferences and the market provides greater control over the interaction between customers and the company, and therefore the company can have better results by offering superior quality products and services.
By using a CRM system correctly, a company can:
Meets the needs of its customers;
Information analysis to make quick and relevant decisions;
Process any operation in a more flexible way;
Optimize sales effectively;
Implementing a complete CRM solution offers key advantages for every modern company, regardless of its field of activity.
Automation and monitoring of daily tasks
In an increasingly competitive business environment, meeting deadlines is proving crucial. Integrating information and automating tasks, such as scheduling meetings or communicating with customers, greatly improves the company's image in the marketplace. Many platforms update activities scheduled for certain important dates using a calendar to get various alerts. The CRM alerts the user to a scheduled meeting with an important customer (via a predefined option, an email, or a phone call). The system can also notify the user of an important event in a customer's life (for example, a birthday) so that they can send a greeting card or a special offer. Current tools offer the ability to send automated text messages to many platforms, such as Facebook or Instagram, SMS or email that will improve the customer's relationship with the product and the company.
Sales management
Every sales manager needs to monitor sales progress data and stay focused on how the sales team manages leads and turns them into customers. The CRM system provides the sales manager with detailed information and reports about each team member, such as average lead time and conversion rate. With this data available, the sales manager can reward the best salespeople and help those in need.
Customer data
A well-designed and implemented CRM keeps customer data simple and organized, no matter how many customers. The user can search the database for any information he needs, at any time and in the shortest time. Research and analysis of results is crucial because it provides useful models for the behavioral habits of customers in the online environment and beyond. Moreover, this new era of CRM solutions brings in addition Business Intelligence (BI) solutions and data analysis that can communicate through any CRM system and can provide feedback much more easily through reports, evaluations, scenarios, etc.
More sales opportunities
The accumulation of customer data is continuous and entails the generation of new sales opportunities. Tracking a customer's behavioral pattern can provide information about their interests and preferences. This type of information can be useful when launching a product that meets the needs of the customer, transmitting the information through a newsletter or social media posts and thus improving sales, without the need for constant advertising to find new customers. Using the existing customer database in CRM ensures recurring sales, which ultimately leads to higher revenue and increased consumer satisfaction.
Social Media Marketing
Another advantage of a CRM platform is the creation of campaigns through popular social networks such as Facebook, LinkedIn, Twitter and Pinterest. Thus, a company can monitor every performance indicator of a campaign conducted on social networks. You can determine which RSS feeds drive the most traffic, which users commented on a company or product, and more.
How do we choose the right CRM?
Once you've figured out the benefits of a CRM system, it's time to take a look at how you can find the right product for your business.
Defining needs
It is extremely important for every company to have a clear idea of ​​what they want to achieve by implementing a CRM, before starting to study the market. The selected product must fully meet the needs of the business and must be easy to adapt if the business enters new markets or develops, either geographically or by introducing new products or services, etc. Each CRM allows you to manage your contacts in a shared database. Therefore, the first concern of every company should be to align the CRM system with its objectives.
Flexibility and Cloud
In addition to the short-term needs of a company, it is important to consider the future needs that will arise with the development of the business. This is why a modular CRM system is extremely useful. Cloud platforms are ideally able to host unlimited data and contacts, perform any upgrades automatically, and can be used from anywhere at any time. Moreover, Cloud CRM variants offer maximum security and control, automatic backup and advanced data recovery, while they can be operated from any device and from anywhere.
Finally, the operating model is more flexible because the system is available by subscription (usually annually) and can be adapted to future needs by purchasing additional modules.
In short, an ideal CRM offers:
Faster integration;
Automatic updates;
Easy adaptability;
Possibility of flexible authentication;
The opportunity to work from anywhere and on any device;
Unlimited collaboration and interconnection possibilities;
Integration with third party applications
Another extremely important aspect that a company must take into account when selecting a CRM system is the compatibility with all the programs and applications already used. If, for example, the company uses Excel, Outlook, or even Gmail to communicate with its customers, and customer data is found on these platforms, CRM should be able to seamlessly integrate with these applications.

Mobility
Mobile devices, such as smartphones and tablets, have become crucial for managers and employees who want to work from anywhere at any time of the day. By connecting to a Cloud platform, a CRM provides the ability to easily respond to new opportunities and get closer to existing and potential customers at any time, via any mobile device.

Support and stability
Because CRM offers the ability to use multiple and different modules, the issue of system support and maintenance is extremely important. A sales opportunity should not be missed because the seller cannot access the CRM system through his mobile device. There are a number of mobile CRM solutions on the Romanian market, both from local companies and from international manufacturers, so choosing the right CRM provider is crucial. The longer a supplier has been active in the market and the more installations it has in its portfolio, the more reliable it is. Any company that wants to implement a CRM system should document itself, read the reports available on the market and get recommendations so that the choice meets both current and future needs and contributes to the growth of its business.
Mobility: The new age of CRM
Traditionally, the responsibility for entering data into the CRM system lies with the sales and marketing departments. They are the ones who provide the necessary information and keep the system up to date throughout the life cycle of the customers. For example, sales people collect data and update customer history files by entering information such as phone calls and emails.
The evolution of mobile devices has led CRM solution makers to upgrade their systems to include new services for customers using these technologies.
Mobile CRM
This specific term refers to the ability to access the CRM platform via a smartphone and a tablet. It is an indispensable feature for sales representatives and marketers who want to access customer data for certain tasks, even when they are not in the office. Modern mobile CRMs need to be able to adapt to the use of these devices so that they can be easily accessed through them. In any case, the ultimate goal must be to provide the customer with the best experience, in a way that will improve both the business and the life of the seller.